Portfolio W3webmaster.com
W3Webmaster is your solution to Web Hosting, Web Design, E-commerce, Search Engine Optimization and Networking. We are conveniently located in South Western Connecticut. Our team of web design and programmers at W3webmaster.Com, LLC are far above the baseline of excellence for engineering web sites and backend programming and office networking. Since 1998 our experience in technical knowhow in web site design, backend programming, e-commerce, search engine placement and office networking surpass all expectations. We bring together web site design professionals and networking engineers who are the best in their respective fields for programming and HTML design and networking. Unlike other inexpensive web site hosting companies, you will receive a personal representative to fill your needs in all aspects of web hosting, web presence and office networking. We will work with you toward meaningful titles, keywords, descriptions and page content that is optimized for search engines and office networking.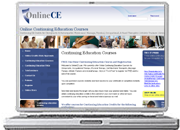 ChiroCredit.com - Is a e-commerce solution to online learning. It's the home of ChiroCredit.com and OnlineCE.com. We currently offer Online Continuing Education Courses for the following healthcare providers: Chiropractic and Naturopathic Physicians, Occupational Therapy, Physical Therapy, Certified Hand Therapists, Doctors of Veterinary Medicine, Veterinary Techs, Massage Therapy and Athletic Trainers. We offer Aromatherapy Certification.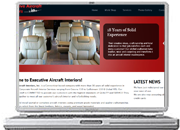 Executive Aircraft Interiors, Inc. is a Connecticut based company with more than 30 years of solid experience in General and Corporate Aircraft Interior Services ranging from Cessna 150 to Gulfstream 550 & Global XRS. Our experienced staff is COMMITTED to provide our customers with the highest standards of QUALITY and SERVICE! They work hard together to meet all our customer's aircraft interior and refurbishing needs.
HarlaDavisonLaw.com - Attorney Harla Davison has hometown roots. Ms. Davison was raised in the Maryvale area. Ms. Davison attended Arizona State University, where she earned her Baccalaureate degree in psychology, with honors, from the Barrett Honors College. With an opportunity to study abroad, Ms. Davison attended Thomas Cooley Law School in Michigan which enabled her to venture out of the country in order to study at the University of Toronto in Canada, and also at the University of Oxford in England. While in Michigan, Ms. Davison interned at both the Michigan Court of Appeals, and Washtenaw County Public Defender's Office, and worked for a plaintiff's firm whose primary cases dealt with birth trauma. Upon completion of her Juris Doctor, Ms. Davison returned home to Arizona. Ms. Davison committed herself for several years to the Maricopa County Public Defender's Office where her love of defending the Constitution began. Ms. Davison is dedicated to assisting people who find themselves in difficult situations, facing dire consequences. Ms. Davison works tirelessly for her clients. Ms. Davison is personable and attentive to her clients. Ms. Davison's areas of practice are all aspects of criminal law, as well as personal injury. Ms. Davison is known to be a litigator who fights hard for her clients. Ms. Davison has represented clients in over 600 cases.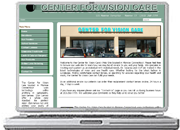 Center4VisionCare.com - Welcome to the Center for Vision Care's located in Monroe Connecticut. Please feel free to browse our web site to learn how we may be of service to you and your family. We specialize in treating each patient as an individual with individual needs. Dr. Iadarola and staff are trained in the latest technologies of vision and eye health care. Whether looking for the latest fashion in sunglasses, finding comfortable contact lenses, or searching for answers regarding your health and vision; the Center for Vision Care can fulfill your needs.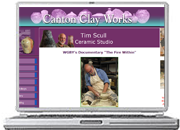 Canton Clay Works llc, is a premier pottery studio and ceramics school located in the Northwest Hills of Connecticut, which offers youth and adult pottery classes/workshops and studio rental. We have gained recognition for our extensive variety of firing techniques (such as raku, saggar, crystalline, pit and cone 10/11 reduction and wood firing!). Our clean, comfortable, well-equipped facilities are located in the beautiful historic Canton Creamery, a short ride from Hartford, Torrington, Litchfield and most of Connecticut's highways.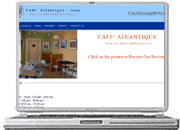 CafeAtlantiqueDTM.com - Cafe Atlantique in Down Town Milford, CT is a coffee house conveniently located steps away from the Milford train station. Take a day trip and see what Downtown Milford has to offer!